Sarah McLachlan Podcast – "Fumbling: The Podcast" Player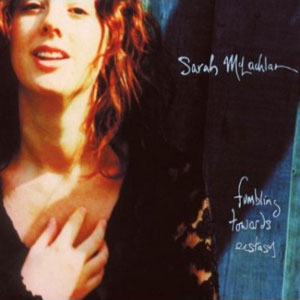 This album, to me, is like God beginning to create the universe. -DMC
The Goal:
Develop a Sarah McLachlan podcast series for release with the 3 CD reissue of her album Fumbling Towards Ecstasy
The Concept – Surprise, Quickly.:
Connect with people who could talk Sarah McLachlan's influence on pop music, and those with a personal connection to her music.
The Cast – Friends and Those Influenced:
Daryl "DMC" McDaniels
Alan Light
Bill Leeb
Production Notes – Do A Lot With a Little:
We wanted to build the story of how Fumbling Towards Ecstasy changed the music landscape, changed the course of Sarah's career, and influenced others.
Due to budgetary requirements, we only had three episodes to do it in,
We knew that our friend DMC (who we'd interviewed for the Thrillercast) was a big Sarah McLachlan fan, and he jumped at the chance to talk about her. The story about Sarah's "Angel" saving his life came out during the interview (although he'd spoken about it before).
Alan Light was another friend, Rolling Stone journalist, and someone who'd been at a very early Sarah showcase show in NYC before the album came out. Since we'd had good results with a guest like that (Moby) talking about another artist (Jeff Buckley), we were excited to have that story be part of the series.
Bill Leeb knew Sarah before she'd even put out a record, as they were labelmates on the then-new Nettwerk label. They would work together again when Sarah did guest vocals on Bill's song "Silence" (with his side project Delerium)
The Result:
A three-episode series tracking Sarah's career.
Credits:
Executive Producer, Project Lead: Jeremy Meyers
Interviewer, Editor, Co-Producer: Joseph Vella, Vella Interactive